ABOUT US
The Law Office of Amaka Eke & Co. is a Legal Practice and Consultancy Firm registered at the Corporate Affairs Commission in 2012 by Amaka Eke Esq., a legal practitioner duly authorized by law to practise as a member of the legal profession in Nigeria. Our law firm offers a wide range of corporate and commercial legal services. These services include dispute resolution, litigation, arbitration, product and service registration at the Consumer Protection Council, debt recovery, payment of tax and obtaining tax clearance certificates for clients, incorporation of different types of companies, payment of annual returns for incorporated companies, registration of trademarks, patents and designs, transfer and perfection of legal title at either the AGIS or the  FHA as well as many other corporate and legal services. Our clients include local, national and international companies ranging from emerging businesses to well established businesses and multi-nationals, as well as public sector organizations. 
BRIEF PROFILE OF KEY STAFF MEMBERS 
AMAKA EKE & CO. is a medium sized law firm with 7 lawyers and 2 support staff. As a firm, we always strive to build an open and honest relationship with each other and with our clients. We also utilize every opportunity to develop the potentials of our staff members for the benefit of both the firm and our numerous clients.
A brief profile of the key members of our team is set out below: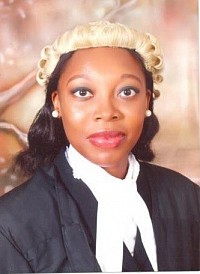 Amaka Eke Esq.
AMAKA EKE ESQ: MANAGING PARTNER

Barr. Amaka Eke graduated from the University of Nigeria, Nsukka with a bachelor's degree in law (LL.B). Upon graduation, she enrolled for the National Youth Service Corp Scheme and was posted to Itesiwaju Local Government Area in Oyo State. After passing out from the Scheme, she proceeded to the Lagos Campus of the Nigerian Law School for the one year mandatory training for Legal Practitioners who intends to practice law in Nigeria. She was subsequently called to the Nigerian Bar on December 2010.
Barr. Amaka Eke has been in active legal practice since her call to bar and has gained reputation as a strong and vibrant Legal Practitioner. She has over the years developed a strong oral and written communication skills which enables her to accurately relay critical legal information to clients. She also has a great time management and organizational skills which makes it easier for her to work more effectively and effortlessly. Barr. Amaka Eke is detail oriented as well as creative which helps her to be flexible in considering wide range of possible solutions when working on a case. She possesses the ability to logically and reasonably draw conclusions based on any limited amount of information which she receives at any given time. She is a member of the Nigerian Bar Association (Abuja branch).
OSITA IKECHUKWU PETER ESQ: PARTNER

Osita Ikechukwu Peter hails from Ebonyi State and is a graduate of Ebonyi State University, where he obtained his LLB (Hons) degree. He was called to the Nigeria Bar as a Solicitor and Advocate of the Supreme Court of Nigeria in 2010. He heads the firm's office in Abia State.
ABUBAKAR BISHIR DODO ESQ: PARTNER
A. B. Dodo hailed from Katsina State. He graduated from Bayero University Kano and was called to the Nigerian Bar in 2011.  Dodo heads the firm's corporate/commercial law and Arbitration department. 
CHRISTABEL ZOE AYUK ESQ:  ASSOCIATE
Barr. Christabel Ayuk graduated with a bachelor's degree in law (LL.B) from the prestigious University of Benin and was called to the Nigerian Bar in 2015. She has gained relevant experience through the years of her progressive legal career in such diverse fields as litigation, corporate/commercial law, real estate management, regulatory compliance, contract management and negotiations among other areas of the legal practice. 
Her on-the- job experience has afforded her a well-rounded skill-set which includes first-rate communication and analytical skills, negotiation skills and an excellent research skill. In the course of her practice, she has had cause to lead a team of trainees/ junior staff and instill a spirit of team work, thereby achieving a well-defined set of activities. She is also an active member of the Nigerian Bar Association (Abuja branch).
YAOR PHILIPS TERFA ESQ: ASSOCIATE

Barr. Yaor Philips Terfa attended University of Jos, Plateau State where he graduated from in 2013. Upon graduation, Barr. Yaor proceeded to the Kano Campus of the Nigerian Law School for the one year mandatory training for Nigerian lawyers after which he was called to the Nigerian Bar on October 2015. 
Barr. Yaor joined our law firm in January 2019 and has carved a niche for himself in the areas of advocacy, preparation of legal documents and litigation etc. He is excellent in networking, problem solving, analytical thinking and he is a great team player. 
ASHI MICHAEL ASHI ESQ: ASSOCIATE
Barr. Ashi is an alumni of Ahmadu Bello University, Zaria where he graduated in 2016. He was called to the Nigerian Bar after finishing from the Abuja campus of the Nigerian law school.
He is a dedicated problem solver, a Legal Practitioner with a passion for litigation and I. T law. Barr. Ashi's passion and commitment aids him in delivering high quality tasks on time and sometimes before their due dates. 
JENNY ASSOH ESQ: ASSOCIATE
Barr. Jenny Assoh attended Chukwuemeka Odumegwu Ojukwu University, Anambra State where she graduated with a bachelor of law degree in 2018. Thereafter, she proceeded to the Lagos Campus of the Nigerian Law School and was subsequently called to the Nigerian Bar on November 2019. 
She is a resolute lawyer with a devotion to research and problem solving. She is also a quick learner and has in the course of joining the legal profession gained a number of skill sets which includes negotiation and excellent communication skills etc.
JENNIFER OKONA: SECRETARY 
She is a secretary in the firm and hails from Abia State. She obtained a diploma from the University of Uyo, Akwa Ibom State. She is a professional who is open to learning, has a creative mind and has a huge sense of dedication to her job. She is knowledgeable in office management as well as customer service and is an integral part of our firm.